Here's a conversation I've had many times over the last few weeks:
"I'm so sorry about your magazines. It's just a terrible time for magazines right now."
"Thanks. But we were actually doing really well. Both titles were making money and Fit Pregnancy especially was growing like crazy."
"Then why did it fold?"
"Because it was doing so well."
[confused stare]
These are the facts: We were killing it, therefore we were a threat to a large competitor, who shut us down and folded our subscription lists into magazines of its own. Eighteen months ago, we were brought in to flip houses, to refresh the magazines and make them profitable again—we didn't realize that was with the eventual goal of selling them, but you can't say we didn't accomplish our mission. (If we were a startup and had been bought out by another company, we'd be celebrating! Of course, we'd also have stock options. So.)
I just hate for others to hear that we're shutting down and assume we petered out without attracting readers, ad dollars, or industry attention. And I don't want to come across as deluded or self-aggrandizing when I insist we folded because we were on a roll. So, here's a little crib sheet of what we accomplished in the last 1.5 years, led by our inimitable EIC, Laura Kalehoff:
We went from rarely having celebrities on the cover to snagging (deep breath) Jessica Alba, Shailene Woodley, Alyssa Milano, Kristen Bell, Kourtney Kardashian, Emmy Rossum, Giada de Laurentiis, Molly Sims, Jenna Dewan-Tatum, and more for Natural Health and Fit Pregnancy. Evangeline Lilly was an editor-at-large for Natural Health and was writing (and yes, actually writing!) a column in every issue.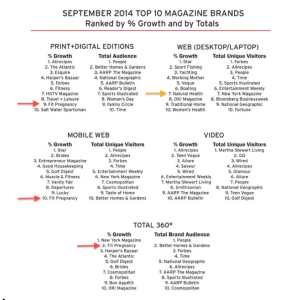 NaturalHealthmag.com also climbed up in the rankings: It was #7 for web growth in the last year.

An update: The second 360 report came out in March 2015. It showed that Fit Pregnancy grew a whopping 38 percent from Jan 2014 to Jan 2015 (#6 ranking for audience growth, smack between Wired and Playboy).
Both magazines grew in brand recognition (a measure of how recognizable various media brands are to consumers) from Fall 2013 to Fall 2014—Fit Pregnancy by 8.2 percent and Natural Health by 5.2 percent.

In MRI's most recent biannual survey, Fit Pregnancy's readership looked phenomenal: The magazine had a gain of nearly 15 percent in readers to 2.1 million, got a bit younger to 29 and was up in income 31.6 percent.

Fit Pregnancy got an honorable mention in the min Editorial & Design Awards in the category of Design: Magazine Redesign—Consumer.
I hope I don't sound bitter, braggy or ungrateful to have been involved in these two wonderful titles. I just wanted to set the record straight (and, for my own sake, organize a sampling of the accolades we received). I have one more week working with this tireless, insanely talented staff, and I hope they all know this happened not because we failed but because we were a massive success.