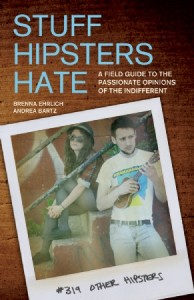 In July 2009, my friend Brenna Ehrlich and I cofounded the blog Stuff Hipsters Hate. In September 2010, we published a book based on it. Amazon sums it up well:
PRAISE FOR stuffhipstershate.tumblr.com

"Depressingly astute."

–The New Yorker

"Wickedly funny."

–The Frisky

From the dive bars of Brooklyn's Williamsburg to the dirty alleys of San Francisco's Mission, the urban hipster has redefined American cool with a sighing disdain for everything mainstream. Hipsters are easily identified by their worn-out shoes, fixies and PBR tallboys, but until now no one had investigated beyond the hipster look to the even more hilarious hipster psyche. With personally researched articles, revealing illustrations and helpful charts and graphs, Stuff Hipsters Hate exposes the bottomless well of impassioned scorn that motivates the ever-apathetic hipster.
Reviews
"'Hipsters are largely negative creatures who gain power and authority by putting things (e.g., music, living situations, apparel, you) down,' write the authors. In short essays, the authors tell us what hipsters hate, including: bras, television, being conventionally attractive, knowing their bank balance, making the first move sexually, and when their friends go to law school. The horror!" Washington Post
"…Whether you want to admit to being a hipster or not, 2010 saw a bunch of  books that could help you cope.  The only one we really liked was written by Brenna Ehrlich and Andrea Bartz, Stuff Hipsters Hate.  It was self-aware and satirical enough to make us think that yes, there are some Tumblr-to-book people out there who deserve the deals." Vol 1 Brooklyn (followed by a Q&A!)
"…Stuff Hipsters Hate isn't your average blog-to-book, one-trick pony, relying on one-line jokes and a couple of pictures to get through the required page count. Each section is carefully written with tongue-in-cheek humor and sarcastic wit. Definitely worth reading." Sacramento Book Review
"…The 'Field Guide to the Passionate Opinions of the Indifferent' has been sitting on my bed-stand for a month. I finally got a chance to read it and it's HILARIOUS. And, super true!" Guest of a Guest
"Hipsterdom, a fascinating counterculture of 20- and 30-somethings that rose to distinction by its hatred of everything mainstream while remaining highly market-oriented and consumer-driven, is the subject of this hilarious new book… Break[s] down hipster culture in a way that is both mocking and playful." Shepherd Express
"…You'll smirk and snicker as you wade through it, but so dead-on it is at satirizing the urban hipster that it starts to become genuinely depressing." Bookgasm
Well, we think it's all in good fun.
Press
Radio/Video (selected)

Appearances
On October 11, 2010, Brenna and I spoke on a panel at UCLA entitled, "Look At This F*cking Panel: A Sociological Investigation of the Hipster." The moderator himself later deemed it "kind of a shit show" and a shirtless and shoeless Gavin McInnes (founder of Vice) rolled off his chair and dragged himself toward the wings while Brenna was talking. Which is all to say: It was a damn good time. No one's sure what happened to the video (there were cameras and signed releases so I'm sure it'll come back to haunt us someday), but here are some fairly amusing recaps:
On Monday, April 11, 2011, Brenna and I gave a two-hour presentation on relationships and sex at Northwestern's annual Sex Week (which, you'll be glad to know, has nothing to do with that live demonstration during Prof. Bailey's Human Sex class). We even used Powerpoint. You'll find a  recap in student pub North by Northwestern.
Brenna and I have also had the pleasure of reading at some wonderful bookstores, including the Union Square Borders in San Francisco, Manhattan's famed Strand Bookstore, Williamsburg's Book Thug Nation, and Fort Greene's Greenlight Bookstore (as part of their monthly Steamboat Literary Humor Series).
We love hearing ourselves talk; please feel free to get in touch about speaking opportunities.
Profiles and Q&As (selected)
Five Accidental Business-Success Stories, Time Out New York
Sexy Feminist Read: Stuff Hipsters Hate, Sexy Feminist
Keeping Up with the Stuff Hipsters Hate, New York Post
Brooklyn Gals Cash in on the Hipster-plosion, Brooklyn Daily Eagle
Meet the Hipsterati, The Millions
Why Bloggers Love Books, Huffington Post
Blog to Book: Stuff Hipsters Hate, Greenpoint Gazette
1 on 1 with Stuff Hipsters Hate, New York Post
Book Deal for Stuff Hipsters Hate, Galleycat