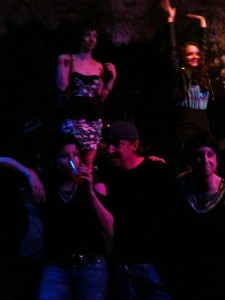 How the time flies! Summer's clipping by, replete with movies in the park, trips to Wisco, a weekend in Vermont and lots of summer shandy sipping. (Said three times, fast.) To bring you up to speed: The Brooklyn Anthem Bash was a great success, and we crowned local crooner Rachel Lee Walsh the winner (details here). At left you'll see Brenna and me pulling off our applause-o-meter portion of the evening in front of local band Mancie. Thanks to all who came out!
In other news, I delivered my first feature in the current issue of Psychology Today! You can see a preview here. I'll eventually get a PDF on my clips page. Ah, it's an uphill battle.
Lastly, your daily dose of nostalgia: Two years ago yesterday, Stuff Hipsters Hate was born! And three years ago tomorrow, I moved to this fair city. New York, you're crazy and unpredictable and spastic and I love you.